What Is Convertkit?
Convertkit is an email marketing tool that helps in writing engaging emails with valuable and important information to share your professionalism so that you can build more trust in your audience. The foundation of any successful business is its system of connecting targeted audiences and maintaining long-term relationships. In this Convertkit Review, we will discuss what is convertkit and how to create automated campaigns and deliver personalized content to each of your contacts. Convertkit is an email tool that has powerful features such as automation, tagging, segmentation, and analytics.  
How to get started with convertkit?
Getting started with Convertkit is easy and it is free also! Though they have paid subscriptions also with premium features.
First, you have to create an account on their website. Then, you can start creating forms and automation to build relationships with your subscribers, and increase conversions. Once your forms are set up and automation is in place, you can start sending out emails and newsletters to keep your subscribers informed.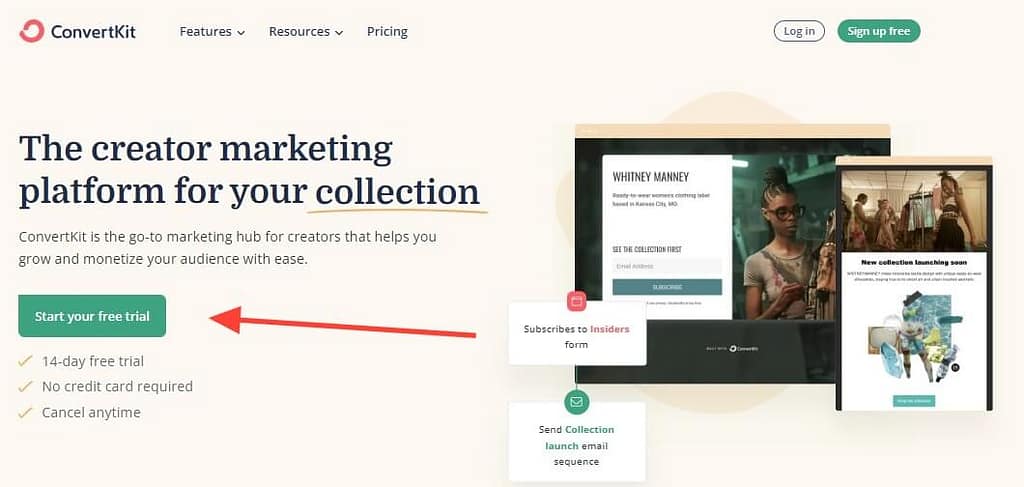 If you need help getting started, you can check out their helpful support page or reach out to their team directly.
I am sure this helps you get started with Convertkit and wish you the best of luck!
You see free version has limited functions when compared with the pro version. With the free version, you can have the following options.
Create Opt-In Forms
Get 1,000 subscribers
Send broadcast emails
These free tools are amazing! When you get more than 1,000 subscribers, you can upgrade.
Convertkit Pricing
Let's talk about pricing!, before we explore the features, There are 3 plans! The free plan, the Creator plan, and the Creator Pro plan.

Convertkit Free Plan
One can start with a Free Subscription. Experience the tool for free with up to 1,000 subscribers. I, personally feel it's a great deal to get started.
Though some features are not activated in it and as a matter of fact initially it is not required to make use of automated email sequences. With the free plan, You can't use that function. However one can send broadcasted emails to your complete list (up to 1,000 subscribers).
Creator Plan | Starting $29 per month
The creator plan provides you with all functionalities in order to automate and grow your email list. The difference from the free plan is that you can automate sequences. That is a great way to monetize your list on autopilot.
For a maximum of 1,000 subscribers, You have to pay $29 per month. When it grows bigger than a thousand subscribers you have all options to update automatically for the new pricing.
An overall view of the Creator plan pricing is provided for you to decide which monthly payment suits your need and budget.
| | |
| --- | --- |
| Amount Of Subscribers | Price Per Month |
| 1,000 | $29 |
| 3,000 | $49 |
| 5,000 | $79 |
| 10,000 | $29 |
| 15,000 | $119 |
| 25,000 | $149 |
| 45,000 | $319 |
Convertkit creator Pro Plan | Starting $59 per month
Convertkit Creator Pro plan gives liberty to you to create custom Facebook Audiences, You can use the Referral System, Subscriber Scoring and have access to advanced reports.
This is for those people who do Facebook Ads. This is very useful to them. All these features are available in it.
Which Convertkit Plan Is Best For You?
If you are new to email marketing stuff, then the automated email sequence is not for You, I suggest to start with the free plan. Get the hang of it. Grow your email list. When you reached to start with email sequences go for the creator plan.
How to start with Convertkit?
First, you go to Convertkit by clicking here to sign up for the free plan. Click on 'Get Started for free'.
You answer a few questions, create login details, and there you go! You have access to your own Converkit Account. That was the first step.
Create Your First Landing Page
Because You wish to Grow Your email list and hence you must create Landing Page or Subscribers form.
You can choose between multiple templates. It is a matter of changing. The images, colors, and adjusting the input fields to your wishes. For instance: First name and Email.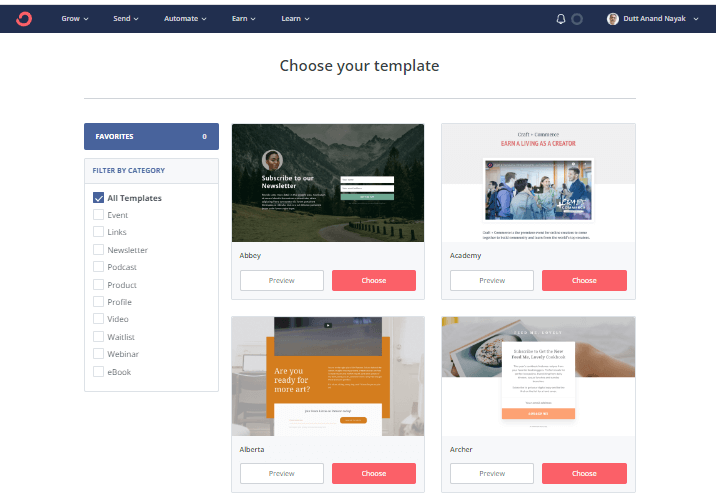 Share Your Convertkit Landing Page
The very purpose of sharing your landing page on internet is to keep your deal before your audience . This can be put on your Instagram description, or share it on WhatsApp, you can place it on your website, send through email to friends. When the other person click on that link, he will land on to your landing page. It is where people decide to leave their name and email address, and you will get a new subscriber.
Broadcast Email
Once your email list started growing, you have the options to broadcast emails and even specify to whom you send them. Maybe you have multiple landing pages—one about Affiliate Marketing and one about Passive Income. You can choose to send a broadcast email to the Affiliate Marketing subscribers. This can all be done with the free version of Convertkit that enables you to have up to 1,000 subscribers.
Free 14 Day Trial For Convertkit Pro
One you reached the stage where you find you are capable enough to pay for upgrade Convertkit plan then you can try this pro plan with a 14-day free trial, and hence you have 14 more days to grow your email list further without paying a single dollar. If you do not cancel, after 14 days you will be charged for the first time.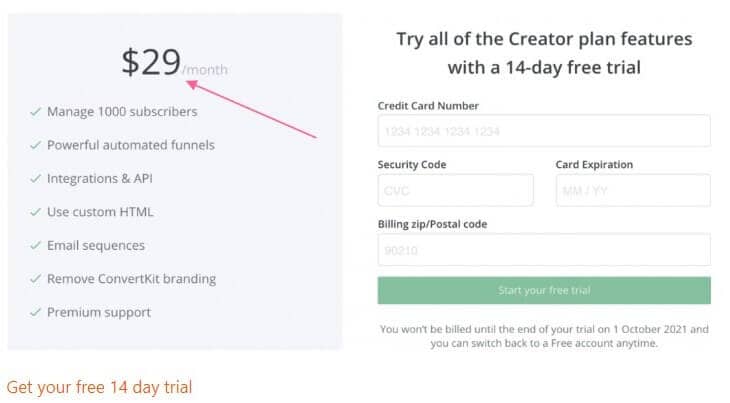 Email Automation / Email Sequences
Convertkit Pro plan helps you in sending automated email sequence. It means that when someone subscribes to your email list you can send a personalized email (By their first name) right after a few hours, a few days or on a certain day of the week, and thus put follow up emails on autopilot based on your requirement.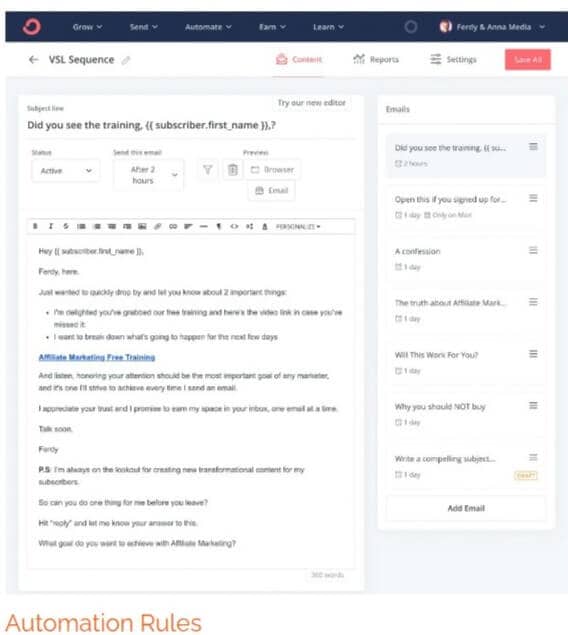 Automation Rule
With automation rules, one can send the right emails to subscriber. Suppose you want to sell a course with an 10 emails in sequence and after 3 emails a subscriber decides to buy the course, the subscriber does not need to receive the other 7 emails. So you can create a rule that says that when a subscriber buys the course he will be removed from that email sequence and added to a new email sequence that is created for people that enrolled in your course. That is the power of automation rules.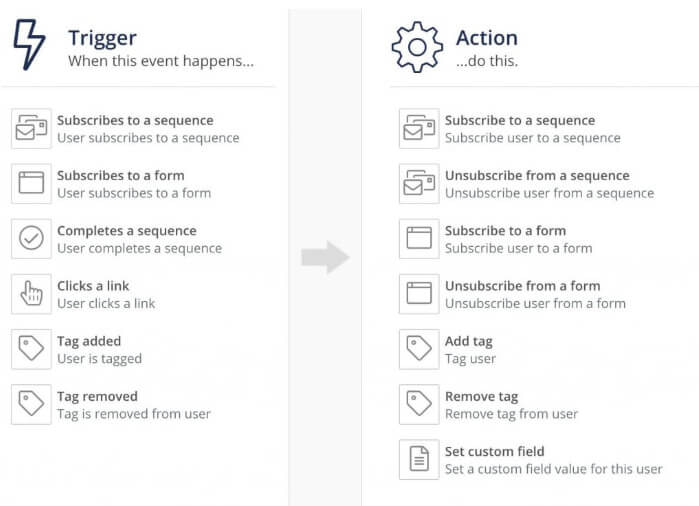 Automation rules work on 2 things:
1. Triggers.
2. Actions.
With automation rules, we can
When our Targeted audience click on a link in our emails, a certain tag can put like tag 'interested'
Add audience with a certain tag to an email sequence or remove them from an email sequence
Add people that followed through a complete email sequence to another email sequence
These tags help to decide to send a specific group of people an automated or a broadcast email.
Visual Automations
Visual automation look a bit overwhelming in the beginning but in my opinion it helps in the biggest learning curve and also really powerful!
Convertkit Integrations
Convertkit integrate with a lot of big names in the website industry. When people visit on your website and buy something through a contact form, Make sure they impress with your form and hence added to your email list. Here is an overview of integrated tools for Convertkit.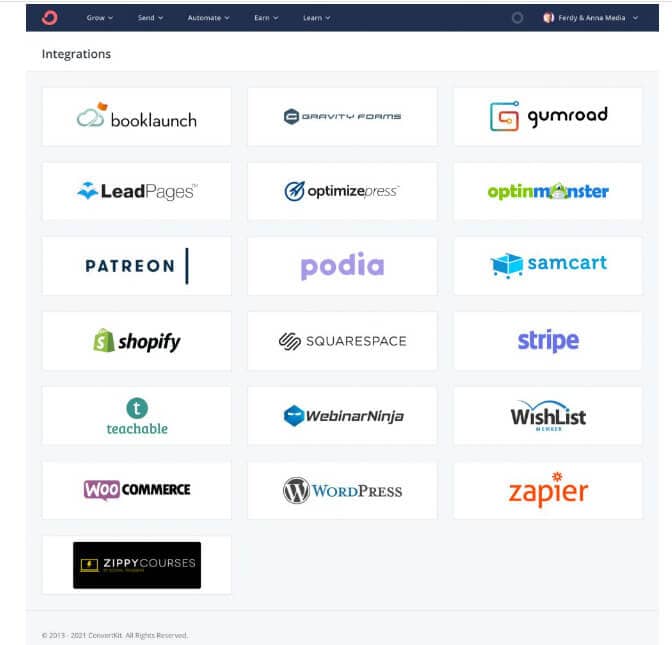 Conclusion
| | |
| --- | --- |
| Convertkit Pros | Convertkit Cons |
| Ease of Use | Lack of Documentation |
| Opening Rate Of Emails are high | Price is High |
| Simplistic and Converting Email Design | |
| Visual Integration and Landing page designer | |
Our Policy For use this website